Dawn of Dragons
1. Requiem's Song
Weredragons, men call them. Monsters. Cursed ones. People who can turn into beastly reptiles.
In an ancient world just rising from darkness, they are everywhere. Some wander the plains with clans of mammoth hunters. Others are born in riverside huts. Some live across the ocean where seafaring tribes are discovering the secrets of bronze and writing in clay. Everywhere their curse is the same--people who can grow wings, breathe fire, and take flight as dragons.
And everywhere, they are hunted. They hide in forests and caves, dispersed. Many are alone, unaware that others exist. They are shunned, afraid, dying . . . until a group of these lost souls binds together and stands tall.
A blacksmith in a world of stone tools. A mammoth hunter exiled from her tribe. A traveling juggler and a wandering warrior. An elderly druid and an outcast prince. They are weredragons. They are cursed and hunted. Together they will forge a new tribe, a home for their kind. A dawn of dragon rises. The nation of Requiem is born.
2. Requiem's Hope
From fire and blood, the kingdom of Requiem rises. It is a home for the lost, the exiled, the hunted—those they call weredragons. In their new kingdom, they gather—men and women who can grow wings, breathe fire, and take flight as dragons.
But there is one who would see this fledgling kingdom crushed. The tyrant Raem has opened the gates of the Abyss, summoning a demon army. His unholy host musters around him and flies across the sea . . . toward Requiem.
The demons swarm, mad with hunger. Their rot wilts forests and boils rivers. Their shrieks echo like storms. Their purpose is one: to slay dragons.
Requiem was birthed in blood and flame. Now her war for survival begins.
3. Requiem's Prayer
Requiem. A kingdom forged in flame and blood. A kingdom for those who can grow wings, blow fire, and take to the sky as dragons. After a long war, Requiem is founded and her columns rise.
Yet Requiem will never know peace so long as Raem, the cruel Demon King, still lurks in his underground realm. Forever he plagues the dragons of Requiem, sending enemies to burn their forests and topple their halls.
The dragons of Requiem have repelled attacks on their kingdom, yet now they must fly to their most dangerous battlefield. For the first time, Requiem's dragons will go underground, into the Abyss itself . . . and face the Demon King in darkness.
Song of Dragons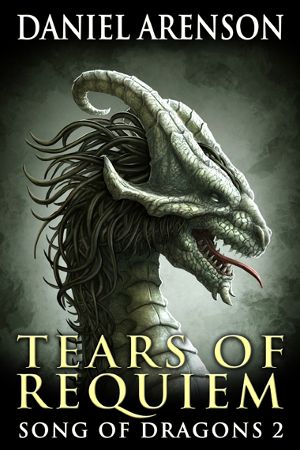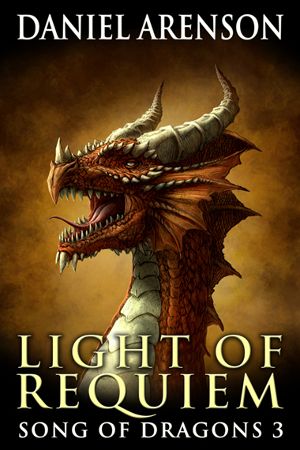 1. Blood of Requiem
Long ago stood the kingdom of Requiem, a land of men who could grow wings and scales, breathe fire, and take flight as dragons. Requiem ruled the sky.
But Dies Irae, a tyrant leading an army of griffins, hunted Requiem's people, burned their forests, and shattered their temples. Requiem fell. This ancient land now lies in ruin, its halls crumbled, its cries silenced, its skeletons littering the burned earth.
In the wilderness, a scattering of survivors lives in hiding. The griffins still hunt them, and every day promises death. Will Requiem's last children perish in exile... or once more become dragons and fly to war?
2. Tears of Requiem
The nightshades cover the land. Demons of smoke and shadow, they fear no sword or arrow. They suck the souls from all who live, like a glutton sucking marrow from bones. The world falls under their darkness.
But the nightshades crave more than random ruin. The souls of mere humans will not sate them. They seek dragons.
Requiem's last dragons, a mere scattering of survivors, have fought off men and griffins. But how can they fight the nightshades, creatures they cannot cut or burn?
3. Light of Requiem
War has ravaged the world. Cities lie crumbled. Forests smolder. The crows feast.
In the ruins, Requiem's last dragons lick their wounds and mourn a death among them. But they will not have long to grieve. From the ashes, a new enemy arises, one more horrible than any before.
His soldiers dead, the tyrant Dies Irae collects severed limbs, heads, and torsos. He sews them into rotting, maggoty mimics of life. With dark magic, he animates his creations... and sends them hunting.
The mimics live to kill. They do not sleep. They feel no pain. They never stop hunting. Worst of all, they undo all magic around them. When mimics are near, Requiem's survivors cannot become dragons... and must fight as humans.
Without their greatest gift, how can Requiem's children survive?
Dragonlore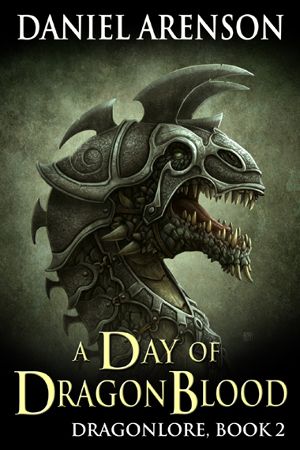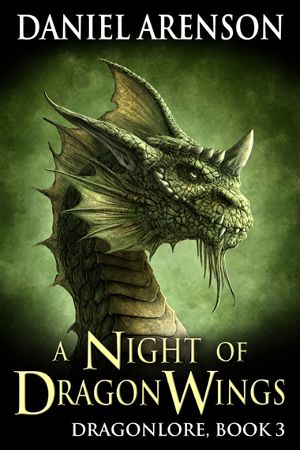 1. A Dawn of Dragonfire
"Their wings thudded. Their flames roared. Thousands of dragons, warriors of Requiem, soared through wind and darkness. Their cries rose in the night: for war, for fire, and for glory."
The people of Requiem, an ancient kingdom, can grow wings and scales, breathe fire, and take flight as dragons. Their hearts are noble, their wisdom great, their kingdom a land of beauty and peace.
This peace will soon burn. From the south, a fire rises. Birds of flame take flight. The phoenixes soar, beasts of heat and wrath, large as dragons and cruel as wildfire. Their purpose is one: destroy the land of dragons.
Requiem's dragons have defeated countless enemies. Their claws are sharp and their flames bright. But how can they fight the phoenixes, creatures woven of sunfire itself?
2. A Day of Dragon Blood
Requiem, an ancient land whose people can become dragons, lies smoldering. After burning Requiem's halls and forests, the cruel Queen Solina retreats into her desert kingdom; there she plans her second assault. Among the dunes, Solina wakes an ancient evil buried in the sands: a horde to slaughter every last dragon.
The wyverns rise from the desert, beasts of iron scales, leathern wings, and claws like swords. Myriads swarm. From their maws spews acid to eat through flesh, stone, and steel. Flying upon the Wyvern King, her sword and banner raised, Solina leads her host into Requiem.
Requiem's dragons are still healing; their wounds are fresh, their hearts haunted. How can they defeat the wyverns, creatures as cruel as the desert that bred them?
3. A Night of Dragon Wings
Requiem burns. Her marble columns lie shattered. Queen Solina's army sweeps across the land, searching to kill every last dragon.
Among the ruins, Requiem's dragons plan a desperate attack. To survive, they must strike Solina at the heart of her desert empire. Yet as Requiem rallies, Solina raises her cruelest champions yet.
The nephilim, the spawn of demons and their mortal brides, have languished underground for epochs. Giants of rotted flesh, razor fangs, and clawed wings, they crave to crush the world that imprisoned them. When Queen Solina frees this unholy legion, the nephilim marshal under her banners… and swarm into Requiem.
Requiem's light dims. Her hope is but a flicker in an endless night. As ancient evil engulfs the world, Requiem's dragons roar, blow their fire, and fly to their last stand.
The Dragon War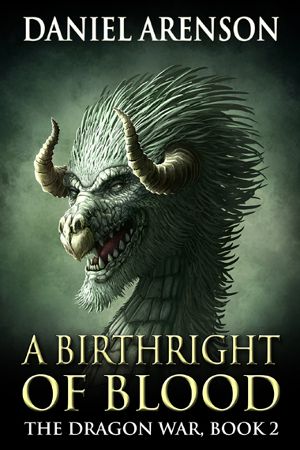 1. A Legacy of Light
"We live in a time of darkness. Requiem lies cloaked in shadows. Tonight we say: We will fight. We will keep our light blazing."
The people of Requiem, an ancient kingdom, can grow wings and scales, breathe fire, and take flight as dragons. For years, Requiem's holy stars have blessed the kingdom with light and magic. But now a darkness falls.
General Cadigus, traitor to the crown, has captured the throne. Bloodthirsty and cruel, he rules with an iron fist. He crushes his own people under his heel. He burns all foreign lands. The noble kingdom of Requiem fades; a dark empire rises.
In the wilderness, a small light kindles. Rebellion brews. The rebels are haggard, outnumbered, and desperate. They hide in forests and ruins. They fight for the memory of Old Requiem, for a legacy of light.
The Resistance is small, but its cry is loud: "The tyrant must fall."
2. A Birthright of Blood
Civil war rages. Brothers fight against sisters, friends against friends, sons against fathers. Requiem, an ancient kingdom whose people can become dragons, is tearing apart.
The Cadigus family, usurpers of the throne, muster their greatest army yet. The Resistance, a small band of rebels, seeks new allies and new hope. For years, these two forces have fought in shadowy forests, forgotten ruins, and dark alleys. Now they fly to open war. The kingdom bleeds. The sky rains fire. The crows feast.
Heir to the fallen dynasty, Rune was thrust into the uprising. He bears the torch of Requiem, a birthright of blood and fire. Yet when the hosts of Cadigus fly against him, an army that outnumbers his own ten to one, can Rune save the land of his fathers?
3. A Memory of Fire
Darkness covers Requiem. The cruel Cadigus family, usurpers of the throne, rule with an iron fist. The Resistance, a band of desperate rebels, lies smashed and scattered. Hope fades. Some say it is utterly lost.
Bloodied, the Resistance hides in distant lands. Most of its fighters lie dead. One of its leaders, captured in battle, suffers torture in the dungeons of Cadigus. Old Requiem seems like nothing but a dying dream, a memory of fire and starlight.
Yet even in the darkest night, the embers of defiance glow. The last few resistors muster. Rising as dragons, lighting the sky with fire, they fly to their last stand -- an attack on the capital itself.
Requiem for Dragons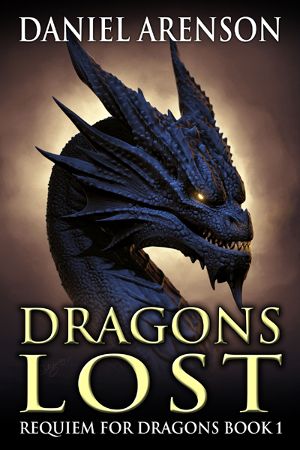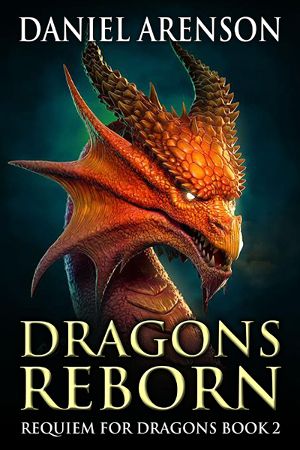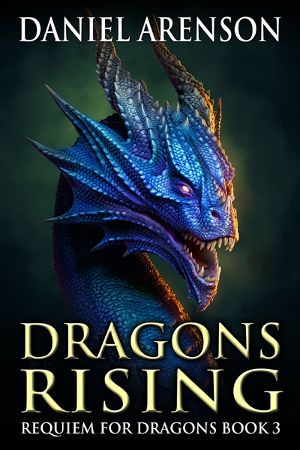 1. Dragons Lost
Requiem. A forbidden word. The name of a kingdom lost to history. Of magic forgotten. Of a homeland for dragons.
They say that years ago, Requiem was real. That men and women could grow wings, breathe fire, and fly as noble dragons. That marble halls rose in a birch forest. That Requiem was a kingdom of magic and light.
But those days are long gone.
Now the Cured Temple, a fanatical cult, rules a land called the Commonwealth. Now paladins patrol the realm, "curing" all newborn babes of "reptilian magic." Now the marble halls are fallen, the old books burnt, the ancient songs lost. Now Requiem is all but forgotten.
But there are some who remember. A baker's boy. A librarian safeguarding a forbidden book. A haunted soldier. An outcast warrior. They carry the magic inside them, a torch of dragonfire. They remember Requiem . . . and they will fight to see dragons fly again.
2. Dragons Reborn
Requiem. A mythical kingdom whose people could grow wings, breathe fire, and rise as dragons. A kingdom all but forgotten.
The Cured Temple now rules over the ashes of that fallen nation. Yet some still remember Requiem. Some still carry the magic inside them. For the first time in a hundred years, dragons take flight. For the first time, they cry out the forbidden name of their kingdom: "Requiem! Requiem!"
The paladins of the Cured Temple gather their armies. They take flight on the backs of firedrakes, mindless reptiles of the sky. They seek to slay the last dragons of Requiem . . . and to erase all memory of that ancient realm. The skies burn with war, with rage, and with dragonfire. The kingdom of Requiem is reborn.
3. Dragons Rising
Requiem is lost. The marble halls, the old books, the very magic of the kingdom--a kingdom of people who could become dragons--are all but forgotten. Now there is only the Cured Temple, a fanatical cult ruling a land called the Commonwealth.
Yet for the first time in a hundred years, dragons are flying again.
There are only several dragons left in the world. Only several souls against an empire. The Cured Temple commands vast armies. Its paladins swarm across the land. Its warships fill the seas. And now the Temple raises its greatest champions yet: the animated skeletons of long-buried dragons, undead beasts that fill the sky. Facing these hosts, the last dragons of Requiem have but a flicker of hope, the sliver of a dream.
But these last dragons rise nonetheless. They fly to war. They fly with one cry, one vision, one prayer: "Requiem."